Glad to announce that the second exhibition of Non-Participation is now on view at the Art League Houston.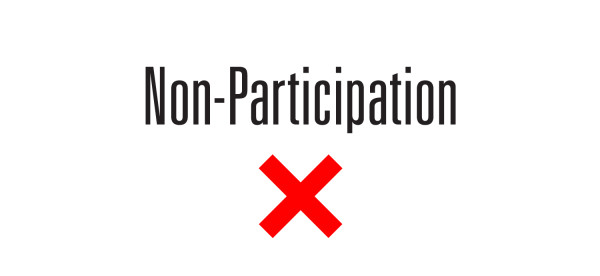 Non-Participation
Lauren van Haaften-Schick
Exhibition dates: November 20, 2015 – January 11, 2016
Opening reception: Friday, November 20, 6-9 PM
ALH Front Gallery I Artist talk at 7 PM
Art League Houston is excited to present Non-Participation, organized by Lauren van Haaften-Schick. Non-Participation is a collection of letters written by artists to decline invitations to participate in cultural events for various political or ethical reasons. In recent years there has been a surge of public protest against highly notable and prestigious art events, including the 2014 Whitney Biennial, The 19th Sidney Biennale, Manifesta 10, and many others. Concurrent with this phenomenon is an increase in attention to artists' labor rights, as evident in the great interest in Working Artists for the Greater Economy's W.A.G.E. Certification system, and major conferences facilitating new ways of speaking about art and labor, such as the Art League Houston's charge practicum. In this moment of encouraging upheaval in the arts, Non-Participation seeks to collect the evidence of these efforts and make visible the key role that acts of refusal and withdrawal might play in introducing reform. In the words of artist Michael Rakowitz, "what an artist refuses is sometimes more important than what he or she agrees to."
The act of non-participation extends beyond a statement of "no." It forces a pause or stoppage allowing for the reconsideration of our routine modes of production and of the transactions in which we take part, and leads us to ask why it is that we might feel pressured to say an unqualified "yes." The activation of non-participation as strategy and method is dually tied to histories of protest as well as creative destruction, wherein the aim is to reveal a new form of production that disrupts the reproduction of the standards in place. As written documents, the letters and statements within this project comprise an archive of pauses, breaks, risk, and non-reproduction. The declaration and inscription of "N-O" remains the foundation, for it ends with an opening.
These letters have been collected through an ongoing open call for submissions, complemented by historical research. Issues raised in these artists' letters include the non-payment of artists' fees, the denial of copyright ownership, censorship, and controversy over funding sources, among many others. The submissions received are global in reach, from as far as Australia, the Balkans, to all regions of the US, and include both established and lesser-known artists. At the Art League Houston, this presentation of Non-Participation focuses on letters that challenge labor and economic inequities, in conversation with the second edition of charge. Letters submitted during the exhibition at the Art League Houston will be added to an online archive at nonparticipation.org. Submissions should be sent to lauren@laurenvhs.com.
Previous presentations and workshops around Non-Participation have been held in St. Louis, MO, the University of California at Berkeley, the Art League Houston, TX, and in Copenhagen and Aarhus, Denmark. In the summer of 2014 the first exhibition of Non-Participation was held at the Luminary in St. Louis. The letters are currently being compiled into a book published with Half Letter Press (Copenhagen/Chicago), and will also be collected in an ongoing online archive.