AHN|VHS
319A North 11th Street, 4th Floor, Philadelphia, PA
Travis LeRoy Southworth
Aggregates, Absurd Infinities and Absent Mindedness
December 4, 2009 – January 3, 2010
Opening: Friday December 4th, 6-10pm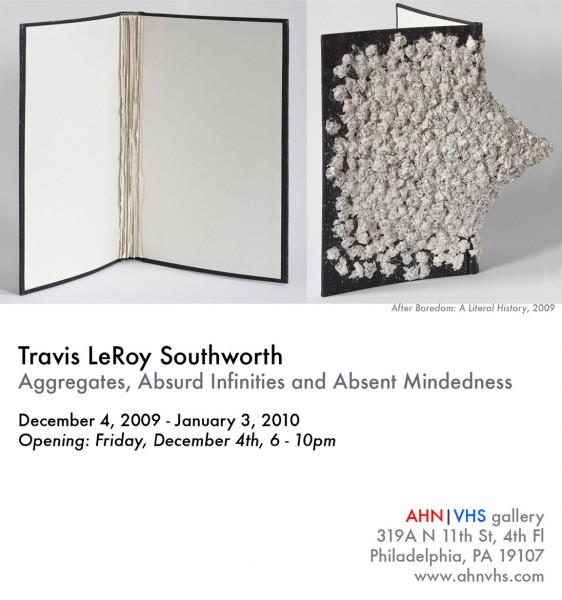 AHN|VHS is very pleased to present an exhibition of new works by Travis LeRoy Southworth. Conceptually driven and made from familiar materials, these works, according to Southworth, begin with an interest in "conventional representation" and "move beyond it…to exist in a new geography, one that redefines the distance between ritual and routine, original source and final work."
The exhibition is composed of three bodies of work. A sculpture series created using paper from books and magazines to create spit wads includes "After Boredom: A Literal History", for which all of the pages were ripped out of the book "Boredom: A Literary History of a State of Mind" and then chewed and spat against the cover of it creating a stalactite-like mound. Southworth says of the work "using paper from books and magazines to create spit wads these sculptures engage aspects of boredom related to loss of oneself. I feel art like boredom pulls things out of their usual contexts and can open up different configuration of things, and therefore also a new meaning."
"Aggregates", and "Similar Seemingly Absurd Infinities", are drawings that are collections of fragments and stray marks that are taken from, but show little reference to, original photographs. As elements of these photographs are systematically selected and reconfigured or re-presented, the resulting compositions suggest a nebula or celestial body, "revealing connections between our own physical markings and those of the cosmos." Pointing to his interest in both the absurdity and truth of cosmic connections, the title of "Similar Seemingly Absurd Infinities" is a reference to a section in Stephen Hawking's "A Brief History of Time" which describes the problems of absurd infinities that arise in the combining of theories.
Travis LeRoy Southworth received his MFA from the School of the Art Institute of Chicago. Southworth's work is in the Drawing Center Viewing Program and he recently finished the Artist in the Marketplace (AIM) 29 program, which concluded with a group exhibition at the Bronx Museum of the Arts. He has been included in a number of group exhibitions including New American Talent 24, Arthouse at the Jones Center in Austin, TX; the Chicago Cultural Center; SCOPE Art Fair in Miami and the Center for Curatorial Studies at the Hessel Museum of Art, NY. This upcoming January he will be presenting a window installation at Mixed Greens Gallery in NYC. Southworth lives and works in New York City.
Inquiries to info@ahnvhs.com. More information and images at www.ahnvhs.com
_______________________________________________________________________________
About AHN|VHS: Gallery owners Julianne Ahn and Lauren van Haaften-Schick are Philadelphia-based artists and arts professionals. In addition to monthly exhibitions AHN|VHS features a curated flat file of works on paper, and editions in all media on our store shelves. All artwork is available for viewing and for sale in the gallery and at www.ahnvhs.com.
To submit work to the flat file or for our shelves, please write to info@ahnvhs.com